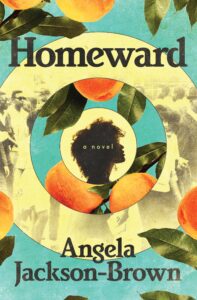 HISTORICAL I SOUTHERN I AFRICAN-AMERICAN I Women's FICTION
The country is changing, and her own world is being turned upside down. Nothing—and no one—will ever be the same.
Georgia, 1962. Rose Perkins Bourdon returns home to Parsons, GA, without her husband and pregnant with another man's baby. After tragedy strikes her husband in the war overseas, a numb Rose is left with pieces of who she used to be and is forced to figure out what she is going to do with the rest of her life. Her sister introduces her to members of the Student Nonviolent Coordinating Committee—young people are taking risks and fighting battles Rose has only seen on television. Feeling emotions for the first time in what feels like forever, the excited and frightened Rose finds herself becoming increasingly involved in the resistance efforts. And of course, there is also the young man, Isaac Weinberg, whose passion for activism stirs something in her she didn't think she would ever feel again.
Homeward follows Rose's path toward self-discovery and growth as she becomes involved in the Civil Rights Movement, finally becoming the woman she has always dreamed of being.
"This is a harrowing novel about the push and pull of fidelity, family, and faith under the crush of history. Angela Jackson-Brown has written a deeply emotional novel that feels timeless while also speaking to the particularly troubled times in which we live."
—Wiley Cash, New York Times bestselling author of When Ghosts Come Home
"An emotionally captivating historical fiction novel . . ." (Most Anticipated Historical Fiction of Fall 2023)
—She Reads
"Homeward is a beautifully written book about love, loss, faith, family, hope, and courage."
—Goodreads review
"Homeward is a stunning and inspiring novel that explores the themes of race, identity, love, and redemption. It is a novel that will touch your heart, make you think, and inspire you to act. It is a novel that you will not want to miss."
—Goodreads review
ANGELA JACKSON-BROWN
Angela Jackson-Brown is an award-winning writer, poet, and playwright who is a member of the graduate faculty of the Naslund-Mann Graduate School of Writing at Spalding University in Louisville, Kentucky. In the fall semester of 2022, she will be joining the creative writing program at Indiana University Bloomington as an associate professor. Angela is a graduate of Troy University, Auburn University, and the Spalding low-residency MFA program in creative writing. She has published her short fiction, creative nonfiction, and poetry in journals like the Louisville Courier Journal and Appalachian Review. She is the author of Drinking from a Bitter Cup, House Repairs, When Stars Rain Down, and the upcoming novel The Light Always Breaks.
When Stars Rain Down is a highly acclaimed novel that received a starred review from Library Journal and glowing reviews from Alabama Public Library, Buzzfeed, Parade magazine, and Woman's Weekly. It was also a finalist for the David J. Langum, Sr. Prize in American historical fiction.
CONNECT:
Website: angelajacksonbrown.com
Facebook: @AngelaDJacksonBrown
Instagram: @angelajacksonbrownauthor
Twitter: @adjackson68