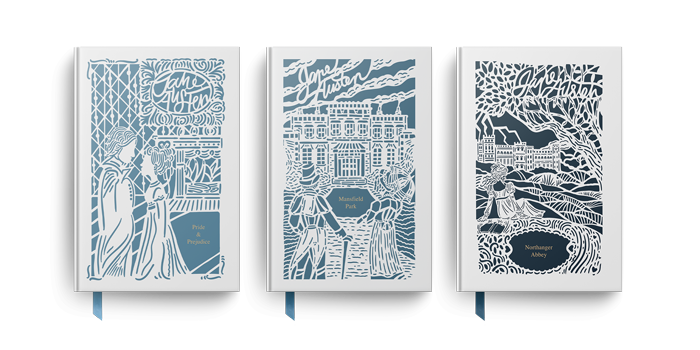 Timeless Classic Literature by Jane Austen
Jane Austen's iconic novels are available in exclusive collector's edition featuring a delicate laser-cut jacket on a textured book with foil stamping and ribbon marker, making it ideal for fiction lovers and book collectors alike. Austen fans will love this exquisitely designed volume from their beloved literary heroine.
This six-volume collection includes Emma, Persuasion, Sense & Sensibility, Pride & Prejudice, Mansfield Park, and Northanger Abbey.
It is not a state to be safely entered into with doubtful feelings, with half a heart.
Anne hoped she had outlived the age of blushing; but the age of emotion she certainly had not.

She was sensible and clever; but eager in everything: her sorrows, her joys, could have no moderation.
It is a truth universally acknowledged, that a single man in possession of a good fortune, must be in want of a wife.

Her feelings were very acute, and too little understood to be properly attended to. Nobody meant to be unkind, but nobody put themselves out of their way to secure her comfort.
Friendship is certainly the finest balm for the pangs of disappointed love.